Posted by: Updegraff Laser Vision in News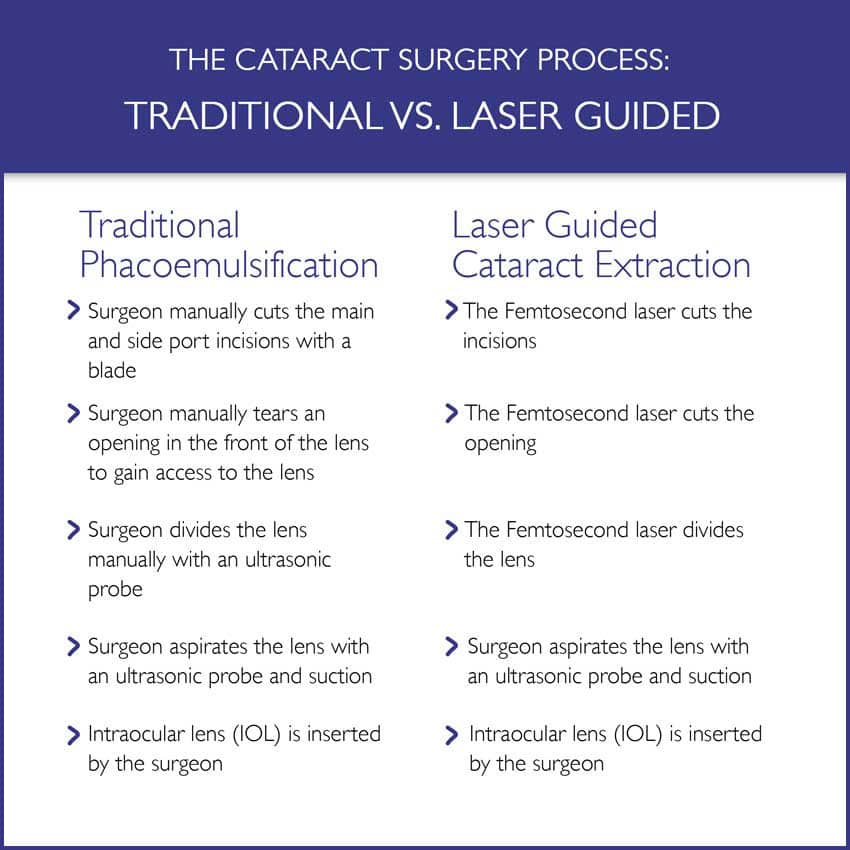 Most of you know Updegraff Laser Vision incorporates the use of a laser for LASIK surgery, but did you know we also use a laser to assist in cataract surgery?
A cataract, in short, is the clouding of the eye's lens over time. This clouding creates a barrier that eventually causes the patient to lose vision. It's estimated that most people will develop cataracts at some point in their lives.
Up until the incorporation of the laser, traditional cataract surgery involved a surgeon manually creating small incisions around the lens with a blade, breaking up the clouded lens and removing the cataract with a vacuum-like process. The addition of the laser to a surgeon's tools has streamlined this process making it more precise than ever.
The laser makes the incision, does the capsulorhexis, and cracks the cataract. The other steps in the process of traditional cataract surgery remain the same.
At Updegraff Laser Vision, we incorporate the most technologically advanced blade-less option for laser cataract surgery, the LenSx® Laser (by Alcon).
The computer controlled LenSx® laser is the most sophisticated cataract laser in use today. With LenSx®, Dr. Updegraff can create those initial incisions with a significantly higher degree of precision. The process is now almost fully automated and starts with a custom made computerized map of the patients eye. This enables every surgery to be 100% customized to each patient's individual needs. These high resolution images are used to precisely determine the incisions the LenSx® Laser will be making to correct the cataract.
Since every eye, and therefore every cataract case is unique, the option of using the laser is not for everyone. Dr. Updegraff uses the laser at Updegraff Laser Vision to assist in improving the precision of high tech lens implants to correct astigmatism and will tell you if it's right for you during your initial consultation.
While risks are involved with any surgical procedure, the precision and efficiency of the LenSx® Laser combined with the experience of Dr. Stephen Upedegraff help to make the procedure more effective than ever.
Dr. Updegraff is one or the most experienced and respected refractive surgeons in the world. He has helped tens of thousands of people achieve freedom from glasses and contact lenses over the past 20 years.
We offer free consultations for anyone experiencing difficulty with their vision and welcome you to set an appointment today. Please call 888.872.2015 or fill out our easy contact form here for a friendly team member to call you directly.
For more information about LenSx® or any of Updegraff Laser Vision's procedures please feel free to browse our website at www.www.updegraffvision.com or call to speak to one of our vision professionals.
---